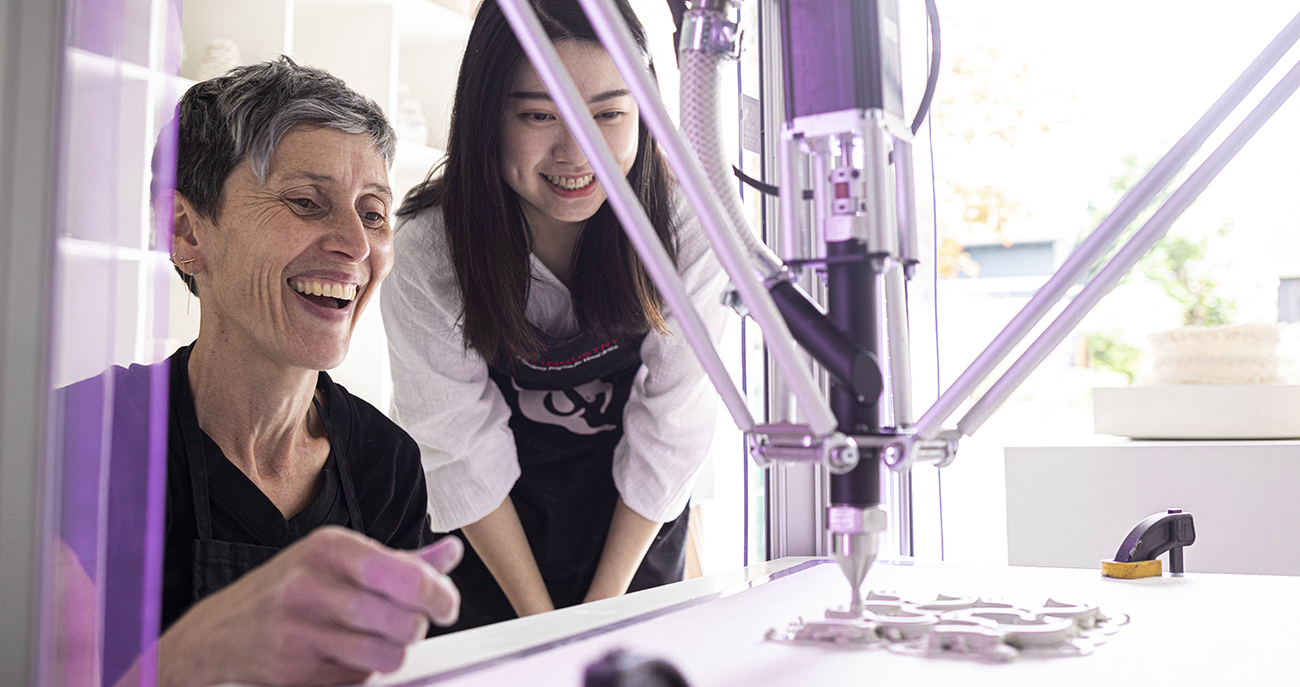 Born from a vision to make the arts at the UW a global center and regional engine, the Arts and Creativity Initiative aims to bring together students, artists, scholars and audiences in state-of-the-art facilities to catalyze creative discovery.
"We know that creativity, problem-solving and imagination are essential skills for students no matter what major or career path they pursue," said Catherine Cole, divisional dean of the arts. "Universities play a key role in facilitating artistic innovation, and the Arts and Creativity Initiative will bring together faculty, guest artists and students to deepen knowledge and experiment with new techniques that cross traditional boundaries."
The Arts and Creativity Initiative is supported by a three year, $600,000 grant from the Andrew W. Mellon Foundation to further collaborations between faculty members and visiting artists, spur the design of new introductory arts courses for undergraduate students and advance the creative process as an end in itself.
In 2016 the UW was awarded a $750,000 grant from the Mellon Foundation which supported an interdisciplinary program that invited guest artists to campus to collaborate with faculty and students on artistic creation and expression. The grant brought together the UW's performing arts units – the Schools of Music and Drama, Digital and Experimental Arts (DXARTS), the Department of Dance and the Meany Center for the Performing Arts – for the first time. The second grant builds on the program's momentum.
The Arts and Creativity Initiative includes six key elements:
Support Leading Edge Arts Research
The initiative supports the practice of art making at the highest levels of craft and technique by funding faculty fellowships, research grants, paper and photograph conservation, and other programs.
Expand Undergraduate Student Access to the Arts
The UW seeks to make the arts part of every student's experience and the initiative aims to create ways for students to use the arts as a way to view, interact with, and impact the word. This includes curricular innovations, new courses and new channels to communicate the value of the arts to students.
Enhance Graduate Student Excellence
The initiative cultivates arts leaders of the future through sponsored grants to increase competitiveness of recruitment offers for PhD students, with a goal of expanding to MFA students in the future.
Prioritize Diversity, Equity, Inclusion + Access
The initiative makes a commitment to collaborative, accelerated action toward a more just and equitable society through student and faculty driven activities to create plans, guidelines and shared goals.
Encourage Strategic Thinking within Arts Division
Utilizing the advantages of a large research university, the initiative aims to make the UW a global center and regional engine for the arts. This includes collaborations beyond traditional boundaries and opportunities for funding support.
Advocate for Renewal and Sustainability
Through key projects and initiatives, the initiative seeks to renew aging campus facilities and celebrate newly-opened spaces like the Burke Museum, and to position the arts as a model steward of the university's resources.
 
Also See